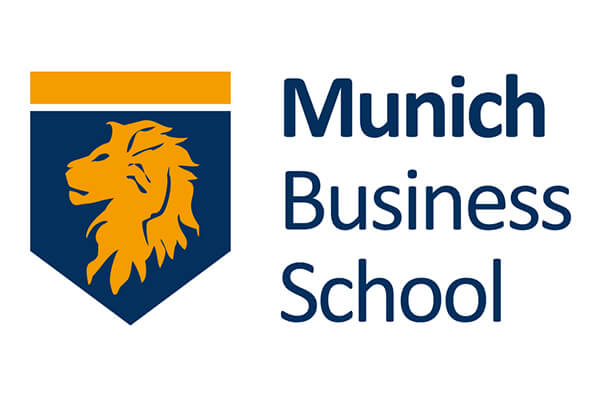 Opšte informacije o fakultetu
Minhenska poslovna škola (MBS) je državno priznati privatni univerzitet u Minhenu koji je akreditovan od Nemačkog saveta za nauku i humanističke nauke. MBS nudi programe poslovnih studija u obliku osnovnih, master, MBA i DBA programa, kao i programe edukacije rukovodilaca za profesionalni razvoj.
Nudi jedan osnovni program za 5 različitih specijalizacija, 4 master programa (master i MBA), završni DBA stepen u saradnji sa Univerzitetom Sheffield Hallam, kao i dvostruke programe u saradnji sa brojnim drugim poslovnim školama iz celog sveta. Minhenska poslovna škola svrstava se među najbolje privatne poslovne škole u ​​Nemačkoj i među 25 najboljih izvođača u pogledu internacionalnosti i mobilnosti studenata.
Minhenska poslovna škola osnovana je 1991. godine kao deo Evropske škole međunarodnih škola. Postao je prvi državni akreditovani privatni univerzitet u Bavarskoj 1999. 
Svi MBS programi su akreditovani od bavarskog Ministarstva za obrazovanje, kulturu, nauku i umetnost i FIBAA (prvi put akreditovan 2007. godine, a ponovo akreditovan 2013. godine). Kao prvi privatni univerzitet u Bavarskoj, Minhenska poslovna škola dobila je institucionalnu akreditaciju od Nemačkog saveta za nauku i humanističke nauke 2010. godine, dodelivši joj neograničenu državnu akreditaciju i potvrdila je 2015. godine.
Opcije smeštaja
Minhen je živahan i relativno siguran grad sa odličnim sistemom javnog prevoza. Studenti obično žive u centru grada ili oko njega. MBS se nalazi u poslovnom području, pa studenti obično više vole da žive u socijalno živahnijim četvrtima. 
Konkurencija u Minhenu za najbolje i najjeftinije stanove je veoma velika i vredi ostaviti sjajan prvi utisak.
Stanarine u Minhenu su uglavnom visoke. Studenti zato često dele stanove kako bi uštedeli troškove. Stanovi su često nenamešteni. 
Soba u zajedničkom stanu: Iznajmljivanje sobe u stanu može se kretati od 500 do 700 € mesečno, u zavisnosti od veličine i lokacije sobe. Komunalne usluge (električna energija, grejanje, Internet, naknada za licencu itd.) Su obično isključene i mogu dodati još 80 – 100 EUR mesečno. Kupatilo i kuhinja su obično zajednički, a sobe mogu biti nameštene ili nenameštene.

Iznajmljivanje studija (jedna soba sa kuhinjom i sopstvenim kupatilom): Prosečna stanarina ovih stanova kreće se od 700 do 900 € (plus režije), u zavisnosti od veličine, kvaliteta i lokacije stana.

Apartmani: Apartmani (1 spavaća soba, 1Dnevna soba), (2 spavaće sobe, 1 dnevna soba) itd. Prosečne mesečne zakupnine za stan sa dve sobe se kreću od 800 € do 1100 € (plus režije) i 1200 € do 1500 € (plus režije) za apartmane sa 3 sobe.
Programi
Osnovni programi
Trajanje: 3 godine
Specijalizacije
International Innovation Management

International Procurement, Production and Logistics

International Marketing and Sales

International Human Resources Management and Leadership

International Financial Management 
Tokom prve polovine osnovnih studija iz internacionalnog biznisa, izabraćete međunarodni fokus sa drugim stranim jezikom. Ovde ćete steći osnovno znanje o ekonomiji, zakonu, politici i kulturi regiona koji vas zanima i završićete intenzivnu obuku odabranog stranog jezika. Studenti mogu izabrati jednu od sledećih regija:
Asia-Pacific

Arabic countries and the Middle East

Russia and Eastern Europe

Spain and Latin America

France and Francophone countries

Germany and European Union
Master programi
Trajanje: 3 semestra (1.5 godinu)
Innovation and Entrepreneurship

Sports Business and Communication

International Business

International Marketing and Brand Management
Mogućnost prakse
Sastavni deo Bachelor International Business programa su tri prakse u Nemačkoj ili inostranstvu u trajanju od po 10 nedelja.  
Na master programima u poslednjem, trećem semestru studenti biraju između: semestra razmene na partnerskom fakultetu, da osnuju svoj biznis (start-up project) ili da odrade praksu.
Cena
Za osnovne studije: €12,133 / godini 
Za master studije: €8,000 / semestru 
Rokovi apliciranja